Hey there folks!
As someone with a lot of hair, I sometimes dread having to do it, especially when it's hot. When my hair was shorter (not exactly TWA short, but shrunk up above my neck) summer hair was much easier. But as a little heads-up to my short-haired folks whose goal is to have length, do know that it will be a challenge, although that's not necessarily a bad thing.
This weekend, I set my hair in curl formers and then put most of my hair in a banana clip. I was in Connecticut visiting my dad and siblings and we had a bbq, and I was running outside chasing my two year old brother, so the hair being up was helpful.
Curly up-do
Side view of hair, holding my little brother
Anyway, I've been searching for updos to add to my summer styling, especially since I want to look cute for outdoor events, like birthdays, BBQs and the beach. I've only found a couple of images that I'm inspired by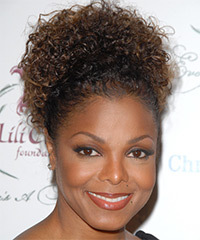 They seem easy enough, of course I'll add my own spin. I hope to find a lot more too. What are your summer hair styling plans?