I realize I have only really talked about the products here in passing, like,
oh yeah I used Ouidad to achieve this style and it was nice.
I really wanted to use it thoroughly before I gave a full review, and since there's a heat wave among us (summer solstice is at 7:09pm tonight!) I think this is a good time as any to discuss the products since the line claims to beat humidity. I used three products from the Climate Control line:
Defrizzing Shampoo, Defrizzing Conditioner,
and
The Heat & Humidity Gel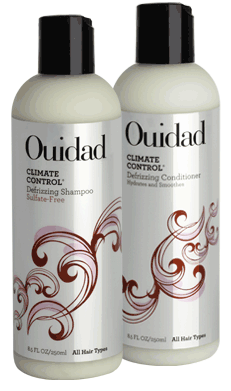 Shampoo:
So I think I found another shampoo I really love and this will probably be my spring/summer staple. I talked about it in the first round of my
"Battle of the Shampoos" post
in early May (there will be another round soon) and it's been my main go-to since I got it. It has the right amount of moisture, my hair feels clean, and my curls feel silky; there's also some de-tangling power which is always good since the last thing I need is for my hair to mat or feel dry once I rinse it out. I use this shampoo on average twice a week and not a lot of it so I don't think I'll run out of it until the end of the summer.
Ingredients:
Water, Disodium Laureth Sulfosuccinate, Sodium Cocoyl Isethionate, Sodium Lauryl Sulfoacetate, Cocamidopropyl Betaine, Lauryl Glucoside, Cocamide DEA, Glycol Stearate, Polyquaternium-10, Glycerin, Polyquaternium-70, Dipropylene Glycol, Panthenol, Tocopheryl Acetate, Sodium Hyaluronate, Lauryl Laurate, Synthetic Wax, Butyrospermum Parkii (Shea) Butter, Ceramide-2, PEI-10, Hydroxyethyl Behenamidopropyl Dimonium Chloride, Sodium Acetylated Hyaluronate, PEG-40/PPG-8 Methylaminopropyl/Hydroxypropyl Dimethicone Copolymer, Polyquartenium-59, Butylene Glycol, Fragrance, Phenoxyethanol, Ethylhexylglycerin, Sodium Chloride, Methylcholoisothiazolinone, Methylisothiazolinone
Conditioner
: I alluded to how well the conditioner works in a recent
Sunday Question
when I talked about it's de-tangling power. It feels like a rich cream and definitely adds a great amount of moisture to my hair that stays when rinsed out. I started using it more like a deep conditioner and let it sit in my hair for 5 minutes or so with a shower cap while I'm in the shower and my hair feels amazing after. My only complaint is because I have so much hair, I need a nice size handful to apply to my hair and this conditioner is pricey; if I'm not careful, I could easily go through this bottle in less then a month, which is why I now use it on average once a week to deep condition.Will I purchase again? Yes, but it's a "special occasion" kind of product.
Ingredients:
Water, Glycerin, Cetyl Alcohol, Cetearyl Alcohol, Stearyl Alcohol, Behentrimonium Methosulfate, PEG-40/PPG-8 Methylaminopropyl/Hydropropyl Dimethicone Copolymer, Propylene Glycol, Hydrolyzed Wheat Protein, Hydrolyzed Soy Protein, Polyquaternium-70,Wheat Amino Acids, Lauryl Laurate, Synthetic Wax, Butyrospermum Parkii (Shea) Butter, Ceramide-2, PEI-10, Ceteareth-20, Hydroxyethyl Behenamidopropyl Dimonium Chloride, Sodium Acetylated Hyaluronate, Fragrance, Dipropylene Glycol, Panthenol,Polyquaternium-59, Butylene Glycol, Disodium EDTA, Phenoxyethanol, Ethylhexylglycerin, Methylchloroisothiazolinone, Methylisothiazolinone
Gel:
It's taken me a bit to write about this because I didn't become sure of this product until maybe two weeks ago. The gel is more like a serum so it's not sticky or anything but I can't use it alone. It doesn't really do much for my hair even when using Ouidad's Rake and Shake technique. I've seen a few naturals who really like the product and it seems to be for those who have very fine hair and don't want their strands to be weighed down - all of my super fine hair is in the very front of my head (and the only part of my hair that does not hold curls very well since it's more wavy). So initially, I was unimpressed and annoyed that I spent so much money on a product I couldn't use, but I was determined to make it do something. Turns out as long as I use something underneath it the frizzies stay at bay and my hair is very moisturized. In my most recent experiment (last weekend) I sealed my wet hair with Vatika oil, then added the gel and did a bantu-knot out and my hair looked and felt amazing - I have decent "day 3" hair today. I've also mixed it with a little eco-styler gel and it played together just fine. I'm happy I have something to combat frizz but I'm not entirely sure I'd buy this again.
Ingredients:
Water, Tocopheryl Acetate, Retinyl Palmitate, Panthenol (Provitamin B5), Chamomilla Recutita (Matricaria) Extract, Actinidia Chinensis (Kiwi) Fruit Extract, Lawsonia Inermis (Henna) Leaf Extract, Wheat Amino Acids, Hydrolyzed Wheat Protein/PVP Crosspolymer, Propylene Glycol, PEG-60 Almond Glycerides, PEG-12 Dimethicone, Dimethicone, Polyquaternium-28, Glycerin, PPG-26-Buteth-25, PEG-40 Hydrogenated Castor Oil, PVP/DMAPA Acrylates Copolymer, Hydroxyethylcellulose, Methylparaben, Propylparaben, DMDM Hydantoin, Fragrance.
So, have any of you used Ouidad? Let us know!